This form of advertising is one of the oldest, announcing the newest fad in big, bold print. While posters are still used today, the multitude of was in which they are used can boggle the mind. With the invention of digital billboards and electronic signage, posters and poster art have become an even more important way to get a message out to potential clients. At squareFACE, we are comfortable using both the older print method along with newer, cutting-edge electronics. And with a variety of styles and methods, we can alert customers to your company's message. Let us "Wow" you with this large advertising medium.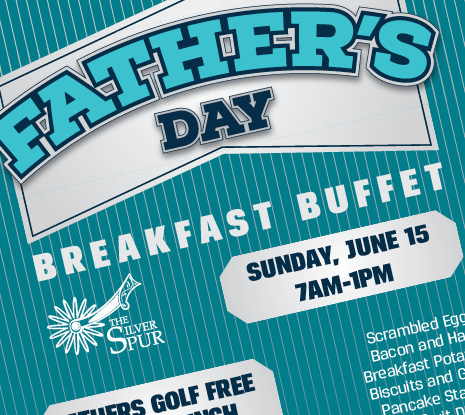 Featured Project
Posters are a great way to create a "Wow" factor for an event, special or promotion. The large graphics seem to grab the attention of potential customers. And we like to have as much landscape as possible to get the message across to customers.
The Silver Spur Grill, located in Maricopa, Arizona, asked us to create a poster to help promote their Father's Day Brunch. We felt that highlighting menu items would give patrons a sneak peek at what would be available for this breakfast buffet. The large title to this poster gave no doubt what it was about, and helped drive a reservation increase of nearly 25% over the prior year.
With Father's Day falling in the heart of baseball season, we used pinstripes and shapes that would relate to America's pastime.