The design of a menu can make the difference between profit, and going into the red. Directing the customer's eyes to key entrees, appetizers and specials can maximize your profit, and make sure patrons are selecting the dishes that make your establishment special. The science behind placement, phrasing and price placement is something we take seriously at squareFACE Marketing. We know that sometimes the difference between a profit and debt can be as simple as making sure the right menu items are highlighted. Let us help you get patrons to select your perfect dish.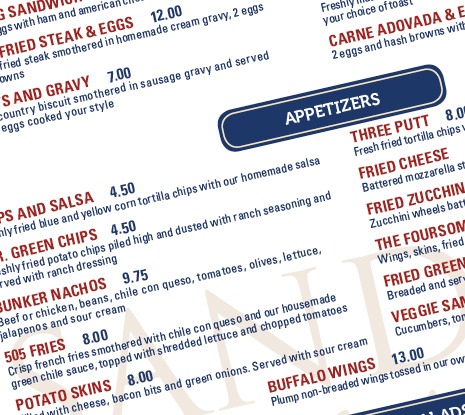 Featured Project
Most people don't realize the impact a menu can have on the success, or failure, of a restaurant. When Sandia Golf Club in Albuquerque, New Mexico, came to us and asked if we could add some local flair to their menu, we jumped at the chance.
Adding items like the "505 Fries" incorporated the local area code into the menu, and gave it a little bit of the New Mexico flavor that helps make the restaurant a destination dining area. By positioning certain items in predetermined locations, and highlighting other items that had the highest profit margin, we were able increase the appeal of the best items for the clients.
So after renaming and "spicing up" up seemingly ordinary dishes, we were able to help increase its bottom-line.