They say new ideas rarely come along anymore, that everything is just re-hashed and re-worked ideas. We don't believe that. We help our clients stay at the forefront of their fields, and push every part of their marketing efforts to the limit. Our favorite question is, "What if... ?" With industry research, over a decade of experience and insight from the client, we try to separate our clients from their competition. Let us help create new and exciting ideas to push your brand, and to lead your respective industry.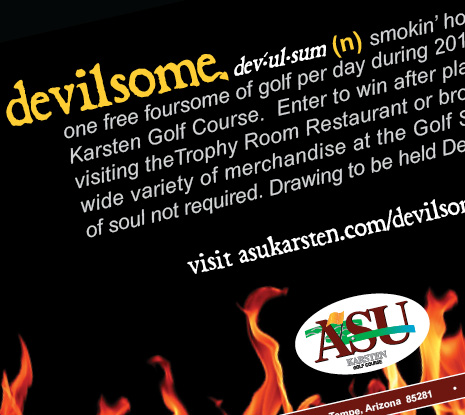 Featured Project
ASU Karsten Golf Course, approached us with a giveaway contest. The contest entailed a grand prize giveaway of a foursome of golf, every day of the year for the entirety of 2015, to one lucky winner.
The goal of the contest was to capture as many valid, unique email addresses as possible, to enhance its email marketing database. Its secondary goal was to increase revenue in its restaurant, merchandise sales and green fees on the golf course.
It gave us complete creative control, and we really took advantage of it! We decided to create our own word, "Devilsome," which would eventually become the name of the contest. It played off of the sinister adjective of "devilish," while merging with the "foursome" of golf. This seemingly simple combination proved to be a hole-in-one, as the course captured more than double its previous quantity of email addresses.