When companies talk about the best way to get new clients, digital marketing is the arena most jump toward. It is by far the most expansive and ever-growing area of marketing. Consisting of almost any type of digital promotion, it can be a simple as an email blast, to as complex as running social media promotions. At squareFACE, we have tried to stay in front of the tsunami of digital marketing and create strategies that maximize exposure while minimizing costs. Let us come up with digital marketing that will boost your company's profits.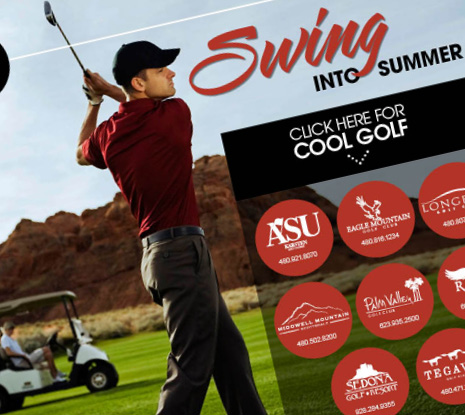 Featured Project
Trying to incorporate multiple entities into one advertisement is always tricky, especially when the client would like to give each equal billing. When OB Sports asked if we could create an email blast that would encompass several of its courses without highlighting one more than another, we took on the challenge.
When creating an email that will go to thousands of users, we always take into account the audience. This particular project was going to readers of the Arizona Republic. So taking into account that only 10 percent of the population is avid golfers, we needed to make sure that we reached as many fringe customers as possible.
With this campaign, we were able to invite people that weren't necessarily golfers, out to the course closest to them. In doing so, we enticed customers to play that may not have played otherwise.